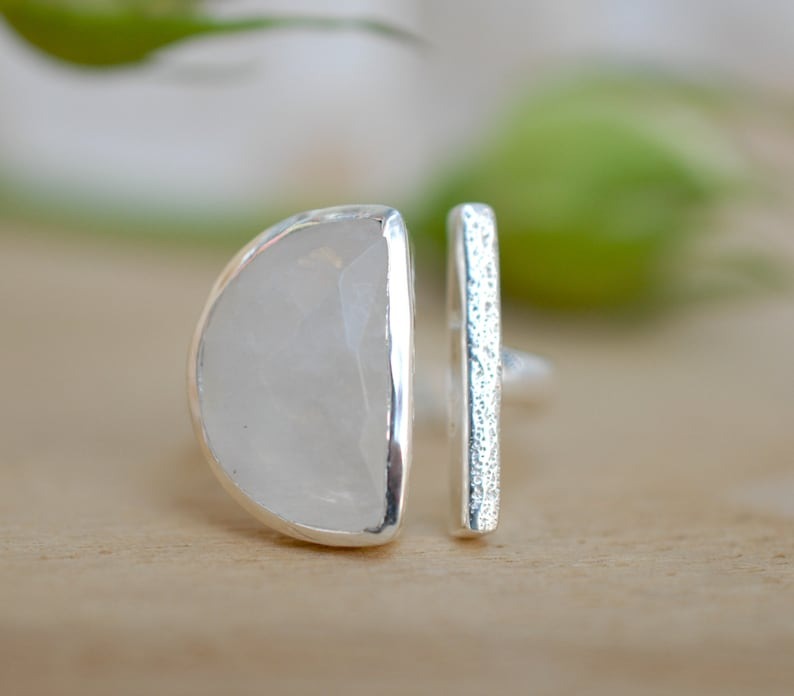 Laura Ring Moonstone Sterling Silver
---
This our favorite adjustable statement ring in Sterling Silver and Moonstone.
This band is slightly adjustable by 1/2 size. It's perfect if you need a half size. The natural gemstone can vary in color, shape or size.
Moonstone meaning:
It brings hope, enhances feminine energies, sensitivity, intuition, and psychic abilities. It is also said to bring strong energies of abundance to one's life. Moonstone is a stone of protection, especially during childbirth, pregnancy, and travel at sea. It is a stone of calm and relief from emotional stress.
The metal band of these rings never completely covers the gem from the back side, so that the energy emanating from the stone will be able to flow freely toward our body and it should be quite sufficient to get the full benefit a given stone can bestow upon us.


Low stock - 1 item left

Inventory on the way
Our shipping costs are based on item weights and range from $5-$20 for most orders. Shipping costs are higher for larger pieces of artwork due to the package dimensions and necessary insurance coverage. 
Orders that contain only jewelry items will ship for free and jewelry items in any order do not count toward the shipping cost calculations.
We offer free local delivery in a 12 mile radius and also offer free in-store and curbside pick-up. To pick up an order curbside, please give us a call at 814-453-3758 when you are nearby and we will run the order out to your vehicle.
Please contact us at staff@glassgrowersgallery.com if you believe there is an error with the calculated shipping rate or if you have any other questions about your order.