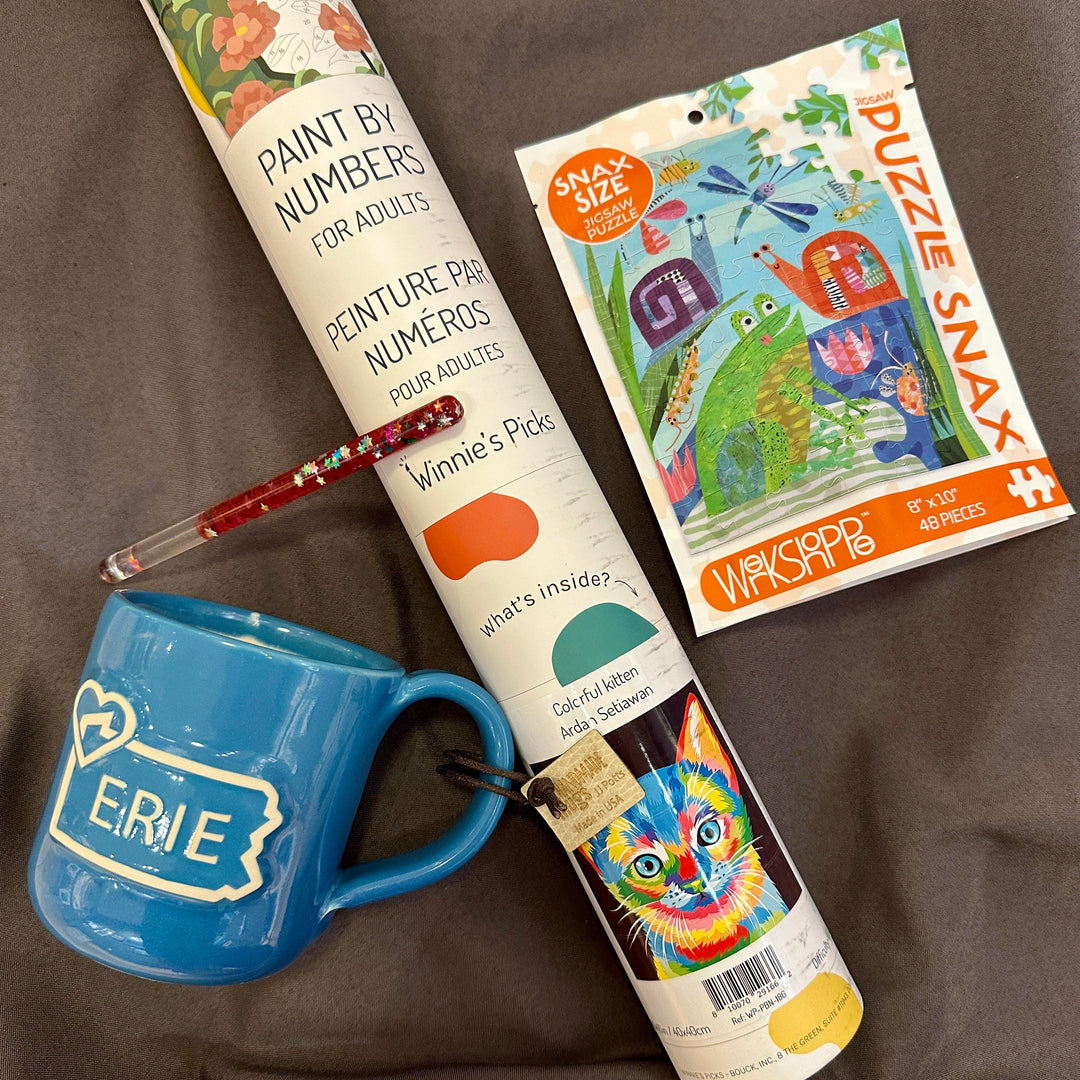 GGG Experiential Gift Bundle
---
Special VisitErie Experiences from Erie Promotion for the 2023 Holiday Season! This bundle provides a 20% discount from retail price.

Sip from your brand new artisan ERIE Mug while enjoying three different hands-on activities. Each Glass Growers Gallery experiential gift bundle will come with one paint by numbers activity kit, one "snack size" puzzle, a magic wand, and an ERIE Mug.

The images for the paint by numbers and puzzle and the colors for the wand and mug will be a surprise. Please let us know a basic description of the recipient so we can adjust our picks based on age and other notes.

If you have a preference for the difficulty level of the paint-by-numbers (Adult Easy, Medium, Difficult or a Kids 2-pack) or any other requests for your experiential gift bundle, please let us know and we will do our best to accommodate. The items you receive will most likely be different from those pictured.

At checkout, you can select between free local pick-up or local delivery or input shipping information.


In stock, ready to ship

Inventory on the way
Our shipping costs are based on item weights and range from $5-$20 for most orders. Shipping costs are higher for larger pieces of artwork due to the package dimensions and necessary insurance coverage. 
Orders that contain only jewelry items will ship for free and jewelry items in any order do not count toward the shipping cost calculations.
We offer free local delivery in a 12 mile radius and also offer free in-store and curbside pick-up. To pick up an order curbside, please give us a call at 814-453-3758 when you are nearby and we will run the order out to your vehicle.
Please contact us at staff@glassgrowersgallery.com if you believe there is an error with the calculated shipping rate or if you have any other questions about your order.