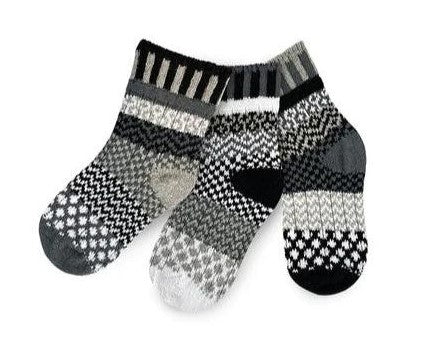 Children's Socks Moonlight
---
Our Kids Socks come in sets of 3: A pair + 1 spare! Whimsically mismatched with recycled materials and made in the USA, these Moonlight Kids Socks are a subtle, but fun way to add some monochromatic style to any outfit! Check out the matching Baby & Adult sets too. Colors in this sock: Black, White, Gray.
Low stock - 3 items left

Inventory on the way
Our shipping costs are based on item weights and range from $5-$20 for most orders. Shipping costs are higher for larger pieces of artwork due to the package dimensions and necessary insurance coverage. 
Orders that contain only jewelry items will ship for free and jewelry items in any order do not count toward the shipping cost calculations.
We offer free local delivery in a 12 mile radius and also offer free in-store and curbside pick-up. To pick up an order curbside, please give us a call at 814-453-3758 when you are nearby and we will run the order out to your vehicle.
Please contact us at staff@glassgrowersgallery.com if you believe there is an error with the calculated shipping rate or if you have any other questions about your order.